The Employer Safety Guidebook to Zero Employee Injury
You can only gain access to certain items and special pricing if you have logged in. Login Now.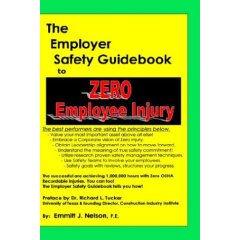 Format:
Print/Tangible (requires shipping)
Affiliate Member, Governing Member, LEO Member - $27.50
NonMember - $32.50
Regular Member - $29.50

Description:
This work tells in Guidebook fashion, how successful companies are achieving "Zero" employee injury for extended periods of time. The more successful are able to reach one million work hours and more with "Zero" OSHA Recordable injuries. This success is reached using research based safety management strategies from the construction industry that apply to employers in any business or industry or culture. Specific examples are presented along with a powerful results oriented, continuous improvement safety management process that is essential for the long term. Employee safety is a people management issue. While the hazards presented in various industries are different, the people are the same. Copy what these in construction are doing in managing safety with their people and you, too, can achieve Zero Injury.
Product Details:
| | |
| --- | --- |
| Product ID: | 204b |
| Publication Year: | 2003 |
| Pages, Size, or Length: | 216 pages |
| Weight: | 1.1 pounds |