TAUC Craft Jurisdiction Guide
You can only gain access to certain items and special pricing if you have logged in. Login Now.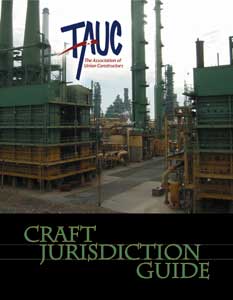 Format:
Electronic (digital download/no shipping)
Affiliate Member, LEO Member - $350.00
Governing Member - $200.00
Guest, NonMember - $800.00
Regular Member - $400.00

Description:
TAUC's Craft Jurisdiction Guide is a comprehensive tool designed to provide contractors with a reference tool to assist in properly assigning work, as well as provide other essential information relative to work assignments and the various jurisdictional dispute processes in the union construction industry. This guide is one of a kind, and is the only place where you can access all of the crafts' agreements and materials relative to jurisdiction. It is in electronic format, and can be accessed using free Adobe Acrobat Reader software.
Product Details:
| | |
| --- | --- |
| Product ID: | 206b |
| Publication Year: | 2009 |
| Pages, Size, or Length: | 975 pages |